These notes were written about 1967 and show how tanning hides to produce leather was a major industry in and around Runcorn in the 19th. and first half of the 20th. centuries. Camden, Puritan, Astmoor,and Highfield were well-known tanneries in the Runcorn area. Their demise after the 1950's was swift and final and all tanning had ceased in Runcorn from 1968. Only some outer walls of the Camden tannery now remain in the car park off High Street, and the last building of the Puritan tannery in Halton Road has now gone. These notes refer to the Highfield tannery, which stood about where Hardwick Road (Astmoor Industrial Estate) and the Daresbury Expressway runs at that point, on the north side of the Bridgewater Canal.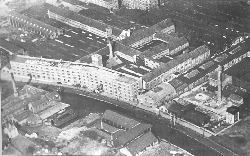 Some notes on "The Highfield Tanning Co., Runcorn"
This picture is of the former Highfield Tannery in Runcorn. The broad black band running from bottom-right to middle-left across the picture is the Bridgewater canal and not a road.
1. The date of this Company in its present form is 1888, but it almost certain that there was a tannery on this site for at least 100 years before that, as it is mentioned in a survey of Runcorn Trades dated 1810 (besides other local evidence).
2. At the time of the founding of the original tannery, there were two or three little yards in every town in England, which existed to use up the local supply of hides and skins. It could not, therefore, be said, that Runcorn was "chosen" at all. This tannery has survived where hundreds of similar small 19th Century Tanyards disappeared. This has probably been helped (apart from special enterprise by the owners) due to its proximity to a major seaport. Present day tanneries import 50% of their hides and 90% of their tanning materials.
3. Proximity to a major seaport is still a great advantage. The majority of sole leather is used in the Midlands and one would imagine that sole leather yards would be there on the spot to supply the demand: this is not so, and there are virtually no sole leather yards in that area. Runcorn is fortunate in being allowed to use some of the Liverpool water supply from North Wales. This is unusually pure and is a great benefit in tanning. Like other tanneries on estuaries, we are able to discharge our effluent without expensive treatment. There is legislation at present in Parliament to correct this unhygienic use of estuaries.
4. We use Ox, Cows and Bull hides, 60% of which are English. The remainder are bought from Western Europe, North and South America and New Zealand.
The tanning materials are also imported. These are :-
Mimosa - South Africa
Quebracho - South America
Myrabolans - India
Sweet Chestnut - France and Italy
Valonea - Turkey
Sumac - Cyprus
The first three being the materials mostly used.
5. This tannery produces all classes of sole leather from the heaviest for Army boots down to the thinnest for ladies evening shoes. It also produces soles for house shoes. The greater part of the production is thin upholstery leather for motor cars and arm chairs, and thicker leather for suit cases, brief cases, golf bags, men's waist belts, cycle saddles, to name a few. We also make leather suitable for horses harness traces, leather for making up into industrial belting, together with fancy leather for ladies handbags and men's wallets. In the last few years we have also started producing leathers for shoe uppers and clothing. This reflects the changes in the leather trade over the past 10 years, as many tanneries producing only sole leather have closed down and new uses for leather have been stimulated.
6. All the overseas raw materials are imported by shipping. 90% of the English materials by road transport. Outward transport of leather is 80% by road, 19% by rail, 1% by air. Bi-products outward 100% by road. Recently there have been developments at the Runcorn Docks and we are now able to make direct shipments to the Continent from Runcorn. This preference for road transport is due to the fact, that we have no rail siding. As regards Canals, it is true that the Bridgewater Canal is alongside the works, and this was used regularly up to 1951 to bring in coal for our Boilerhouse, but owing to the poor quality of the coal, we decided to change over to oil firing at that date. Fuel oil arrives by tanker.
Recent history of Highfield, 1929-1967
1929-1939
Only minor changes in hide supply, production and sales approx 5% export Development of shaved bends for repair trade in this period. Production approx 5,000 sole; 1,500 upholstery/harness/belting; per week
1939-1948
Supply of all hides and tanning materials by Government control at fixed prices. Leather sold at controlled fixed prices to customers licensed by Board of Trade. General shortage of labour - girls started working here again as in World War I; men brought in from Liverpool and S. Ireland; Production 4,000 sole; 1,000 uphostery/harness/belting per week No direct export of leather.
1945
Introduction of acid/salt control of veg tan liquors produced more uniform leather.
1947
Abandoned canal delivery of coal from Staffordshire due to high % of ash; boilers converted to oil firing by chief engineer.
1948
Recreation Club moved from Canal Street to The Mount, Moughland Lane.
1950
Began tannage of Cr. Retan split hides.
1951
All electricity and heat supplied from own power house from this date.
1951/2
Korean War caused violent rise and fall in hide and leather prices; shoe manufacturers shocked at this fluctuation and turned to more stable synthetic soling materials.
1954
Began tannage of Cr. Retan levelled bends for the ladies trade.
1955
Sale of men's sole leather in form of cut soles, cutting done elsewhere.
1948-1955
Production approx. 3,500 sole; 1,500 upholstery/harness/belting
1955
Began the export of heavy split hides for German leather goods trade.
1955-1960
Saw the start of the downfall of sole leather and the introduction of Neolite (a brown resin material from U.S.A.). In this area Penketh, Latchford, Camden, Union Hutching's, Central Parkinsons Puritan, Astmoor, Bootle Shakerleys Pitts, Sefton Winwick all closed.
1958
Began production of dressed shoulders for the U.S.A. waist belt trade. Camden Tannery closed and production of 1,000 hides per week transferred to Highfield with 10 staff and 50 men. Production now 3,500 sole leather; 2,500 upholstery/belting/harness
1959
Began export of split hides to France for motor car industry
1960
Gave up Camden production and tannage of dry hides Recreation Club transferred from The Mount to Canal Street after modernising interior and installing a bar. Production 2,500 sole leather; 2,500 upholstery etc.
1960
Started exhibiting regularly at Paris and other overseas Leather Fairs.
1961
Started production of side leather from split hides for U.S.A. billfold trade. Consultants installed incentive bonus schemes for all workers in Llime yard, tanyard.
1962
Began to make small lots of chrome side upper leather.
1963
Abandoned production of belly leather
1964
Production 1,000 sole; 4,000 upholstery/harness/belting. All bellies, butt and shoulder flesh sold in limed state.
1966
Started to make clothing leather
1967
Closure of power house - except for standby purposes