Rocksavage Hall
These notes on Rocksavage Hall were provided by our late Vice President, Mr Bert Starkey.
---
Among the many Cheshire stately houses depicted by the artists Samuel and Nathaniel buck in 1727, there exists an etching showing a distant view of Rocksavage house at Clifton, near Runcorn. This great "prodigy house" was built of the local red sandstone in 1568 by Sir John Savage. It was very similar in appearance to Brereton Hall, which was built about the same time and which still exists near Congleton. Sir William Brereton married Sir John's daughter and he modelled his Congleton home on Rocksavage.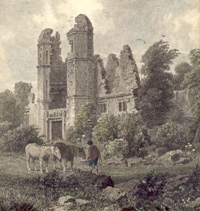 This drawing of "Rocksavage" was done by P.De Wint and published in 1815. It shows how the great house had deteriorated in less than 50 years. 'Click' on this drawing to see a larger one.
The impressive front of Rocksavage had two great octagonal towers surmounted with domes and bridged by a castellated wall to create an imposing entrance.
The house was a vast building of four bays in depth and it was the second largest house in Cheshire - only Cholmondley Hall near Bickerton was larger. In the Hearth Tax returns for 1674, Rocksavage is listed as having 50 hearths. The house stood in formal Elizabethan gardens and it was sited so as to command views across the Weaver valley towards Frodsham and the Welsh hills beyond.
On 21st. August 1617 King James I and his entourage were entertained at Rocksavage after which they hunted deer in Halton park before resuming the Royal Progress to Vale Royal.
During the Civil War John Savage, Earl Rivers, declared for the King. Parliamentary success in the locality saw Rocksavage looted and it was rendered inhospitable when the roof and some of the walls were thrown down. At the restoration of the Monarchy Rocksavage was restored to the family and repairs, which lasted some years, were carried out.
In 1728 the title "Earl Rivers" became extinct. With the end of the direct male line of the Savages the Earl's daughter. Elizabeth, claimed the estates. She was the wife of the Earl of Barrymore and the Earl and Countess restored and enlarged the house.
An account of the house in 1778 gives a clear picture of a stately home "with delectable gardens, orchards and walks"
With the death of the Countess the estate went to her only child, the Lady Penelope Barry who married the Honourable James Cholmondeley. Lady Penelope died childless and the Rocksavage estate continued in the possession of the Cholmondeley family.
The Cholmondeley family had their principal seat at Cholmondeley Old hall in south Cheshire. They had no use for Rocksavage and it was allowed to decay into a ruin. The stone was robbed to build farm buildings and walls. A tall pinnacle of masonry existed until the 1960's when it collapsed in a gale. Today only a portion of the garden wall and the gate posts remain.
more history of Clifton,
Rocksavage Hall and
the Savage family
more photos of the remains
of Rocksavage Hall