Thomas Hazlehurst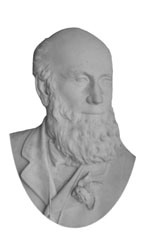 Thomas Hazlehurst was born in 1816 in Runcorn where he lived until his death in 1876. He was famous locally because in the third quarter of the 19th century he paid entirely or substantially for the building of 12 Wesleyan Methodist chapels and 3 schools in Runcorn, Widnes and the villages of north Cheshire. His greatest single gift to Methodism was St Paul's chapel on High Street, Runcorn. This was opened in 1866 and was considered to be the finest chapel in the Liverpool Methodist District.
Thomas was a member of a family business, Hazlehurst and Sons, which made soap and alkali in a works in the centre of Runcorn. The business had been established on the north bank of the Bridgewater canal in 1816 by his father, who was also called Thomas. Thomas junior's wealth came partly from the business and partly from the estate of his first wife, Eliza, who died in 1851 on her 28th birthday.
Thomas, like his father before him, was a pious and devoted Wesleyan Methodist. He spent a substantial part of his time in prayer, Bible reading, visiting the sick and in filling those roles in the Methodist church which were available to a layman. He also wrote a large number of sermons or 'discourses' which he arranged to be printed and distributed free of charge. It is estimated that between half-a-million and a million of these were produced during his life. In addition to all this, he was frequently invited to lay the foundation stones of Wesleyan Methodist chapels and schools in the area and further afield. Each time he did this he would make a rousing speech and give a generous financial donation and in return he was presented on each occasion with an inscribed commemorative silver trowel or mallet. These he had mounted on a large wooden frame which was displayed with pride in the living room of his house, Beaconsfield, on Weston Road. Unfortunately this substantial collection of silver trowels and mallets has disappeared, apparently without trace.
Click here to see drawings of five of the Methodist Chapels funded by Thomas Hazlehurst in Runcorn and Frodsham
Click here for a more extensive and detailed history of the activities of Thomas Hazlehurst and his family in 19th century Runcorn. If anyone has any information relating to the fate of the collection of silver trowels and mallets, please let us know, preferably by e-mail to this address.