Runcorn, Cheshire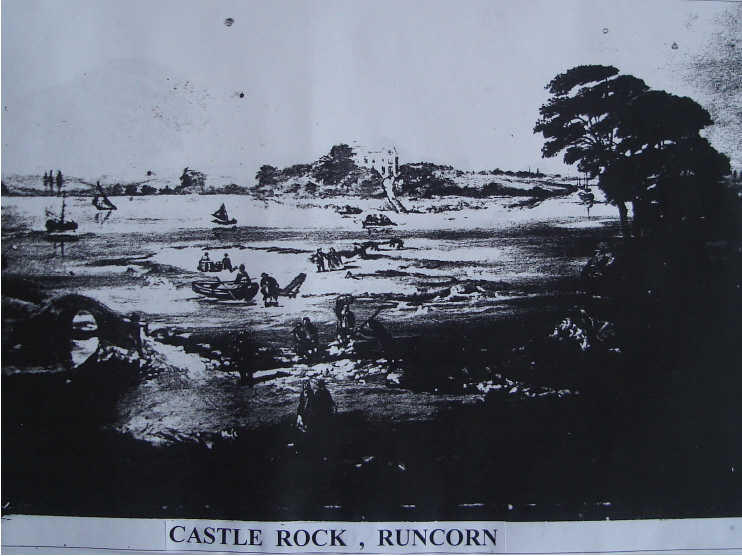 The Anglo-Saxon Chronicle states "In 915 she fortified two sites on the extreme border of her country - Chirbury on a tributary of the Severn, which commanded the easiest road from Shrewsbury into central Wales and Runcorn on the Mersey."
This old painting of the ferry across the Mersey from Runcorn to Widnes shows what is thought to be "Castle Rock" in the right, covered in trees (cf. description below). The importance of Runcorn as a crossing point by ferry of the river Mersey is apparent in the choice of site to guard this crossing point. As far as we know, Runcorn was a new site for a fort, but as all traces of the Saxon fort were destroyed during the construction of the railway bridge across the River Mersey, this cannot be proved. In his book on Old Runcorn, Bert Starkey tells us that in 1819, a Mr Mousdale described the site as covering an area of land about 40 metres by 30 metres on a rocky promontory, which jutted out into a deep channel in the River Mersey. The landward side was protected by a ditch six metres wide and cut through the rock. Behind the ditch there was a rampart which was about 2 metres high when Mr Mousdale made his observations.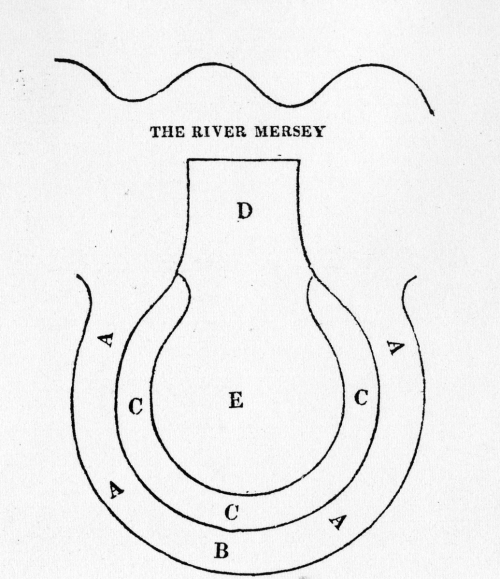 The following extract is from "Visitor's Guide to Runcorn and its Vicinity" by the Rev.G.Fowler (Pub. 1834). In this extract he describes "Castle Rock" as it was at that time

"The area D. E. is a piece of land, one hundred and forty-two feet long, at D. forty feet wide, and at E. seventy-two feet. At C. C. C. is a mound, on which are growing trees and brambles. This mound, in some places, may be six or seven feet high above the area, D. E., and from ten to sixteen feet broad. What may be under this mound has not been ascertained, no person ever having been known to have examined it. A. A. A. is a ditch, from twelve to sixteen feet wide, and might have been, originally, ten or twelve feet deep ; but is now filled up to the level at B. There is no appearance of a mound at D. Until late years,the rock, at this point, projected about eighteen feet further into the river. It was cut straight, and perpendicular, by the late Duke of Bridgewater, for the purpose of improving the river, which, at this place, is about three hundred yards wide at low water, and about four hundred at high water. This is the point, at which it was, some some years ago, in contemplation to build a bridge over the Mersey."

This bridge which he mentions was of a design by Thomas Telford. Although not built at Runcorn, it was built,in time, over the Menai Straits and links Anglesey with the Welsh mainland. Lucky Wales, but it does look much better there than it would have done at Runcorn! The present railway bridge at Runcorn was built some 50 years later.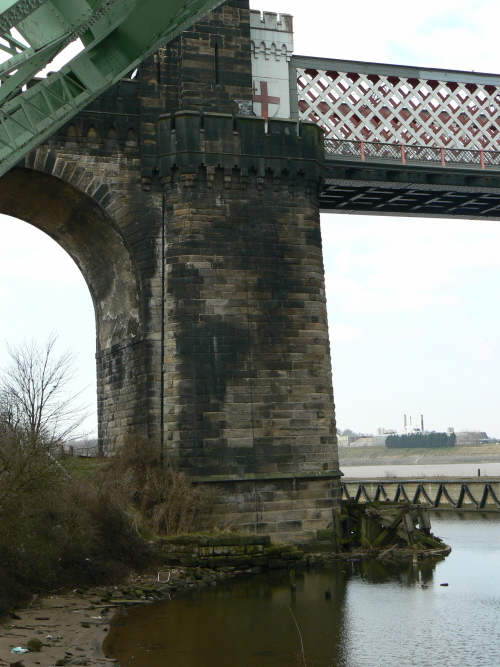 This is the Runcorn railway bridge support which is supposedly built on the site of Ethelfleda's "castle" at Runcorn. There is said to be an old well, discovered during the building of this bridge, under the support. It can be seen how the Manchester Ship Canal erased any other traces of the site. The water in the foreground is the M.S.C., which is divided by a sea wall from the River Mersey (tidal) beyond. 2014 marked the 150yrs since the construction of this bridge was commenced.NOTE the arms of London above this pier of the bridge.The Widnes side of the bridge has the arms of Liverpool on it. (The green painted girders, top-left, are part of the Silver Jubilee Runcorn-Widnes road bridge.)