Welsh Calvinistic Chapel
Rutland Street, Runcorn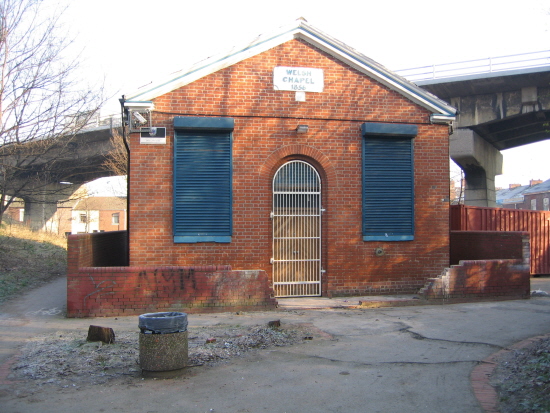 In 1829 the Welsh Calvinistic Methodists had built a Chapel at No. 17 King Street, which measured 33 feet by 21 feet. This building was converted into dwelling houses when the Chapel moved to Rutland Street in 1856.
The Welsh community in the town grew quickly during the first three decades of the nineteenth century as seamen, dock workers, and quarrymen settled in Runcorn. By 1843 the congregation consisted of 50- 60 Runcorn people supplemented by as many as 80 seamen on occasions.
Before 1826 sailors from Wales were given credit for beginning a religious movement among the Welsh people when they held prayer meetings aboard a barge which was moored in what became known as "Welsh Basin". The Trustees of the Duke of Bridgewater gave £10 per annum towards the cost of this venture but nothing is known of its subsequent history but is seems likely that it would have been discontinued once the Chapel in King Street opened and certainly by the time the Chapel moved to Rutland Street.
All the Services were conducted in Welsh and the wording on the notice board outside the Chapel also was wholly in Welsh which no doubt caused confusion in the minds of the local young (and not so young) non Welsh people in Runcorn.
The building required extensive repair work and closed on 4th March, 2001 as funds could not be found for the repairs and the regular congregation was about 16.
During World War II the railings in front of the Chapel were the subject of unauthorised removal and representations were made to the Council (unsuccessfully) for a replacement wall and gates. No body would admit to having any responsibility for the removal as at that time no religious building could have railings and other ironwork removed for the war effort unless they chose to donate them.