St Michael & All Angels, Runcorn
Greenway Road, Runcorn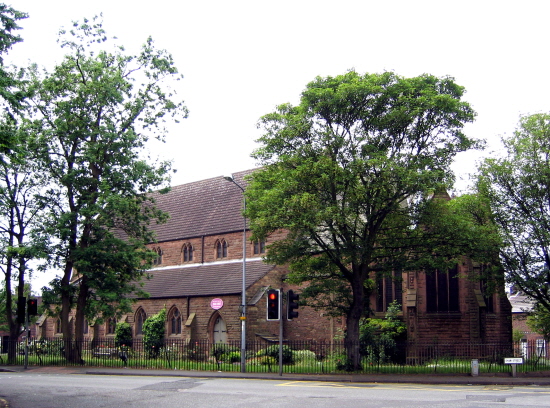 With the coming of the railway in the 1860s, Canon Barclay, the Vicar of Runcorn, fund raised £350 to build a single large room in Shaw Street to serve the educational and spiritual needs of the rapidly expanding Newtown area between Greenway Road and Holloway. Sunday School and Services commenced in October, 1867 and the Day School opened in January, 1868
Clearly this arrangement was not going to suffice for long and on 17th April, 1884 the foundation stone for the new church was laid by Major John Orred who had given the land for the church. The nave cost £4,000 and the first Service took place on 19th June, 1887. Raising a further £1,200 to add the chancel took a further five years and the church was consecrated to St. Michael and All Angels on St. Michael's Day - 29th September, in 1892. The foundations were dug for the tower and spire but money was not available to complete the architect's original design. Canon Barclay never lived to see its completion, dying in August 1886 and it was left to his successor, Rev. Alfred Maitland Wood to see the completion of the building works.
The experience of the early years when only the nave was in use had given St. Michael's the reputation of being a draughty church and this reputation was further enhanced at the consecration when, the day being exceptionally cold and wet, and no one had the courage to close the chancel window resulting in the Bishop of Chester who had performed the consecration being laid up for a week after his visit !.
St. Michael's became a separate Parish on 1't June, 1932 with some 540 persons on the Electoral Roll and the Rev. W. F. Good was inducted and instituted as the first Vicar, he having come from Colchester in November, 1931 with a view to becoming the first Incumbent.