St. John the Evangelist Church, Weston.
Heath Road South, Weston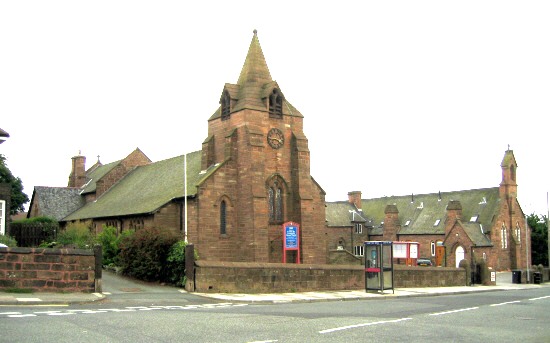 It was in 1894 that it was decided to raise funds for a new Church to replace the Mission Church erected in 1863. Plans were drawn up by Messrs Douglas and Fordham, of Chester and contracts approved with Messrs R. Rathbone & Son, Atherton, for the masonry; and Mr. John Mayers, of Chester, for the joinery, were accepted at a total cost of £3,137, exclusive of fittings, pews, boundary walls etc.
In November 1894, to start the fund raising, "Grand Scenic Bazaar depicting Runcorn in Ye Olden Tyme" was staged in the Public Hall in Runcorn and raised about £820 in four days - a considerable amount for those days. This together with a donation of £100 from the Lord of the Manor (Major J. Cavendish Orred) and a grant of £300 from Queen Anne's Bounty formed the nucleus of the Fund. Major Orred subsequently gave a further £400 and the plot of land on which to build the church, thus honouring the offer made by his father in 1869.
The 23 members of the Choir then wrote to other choirs and people, including Bishops, throughout Britain and around the world, appealing for donations. They received more than 5,000 replies; the donations totalling over £ 700. The choirboys of Newcastle sent money they had originally collected for fireworks; a silver dollar was sent by seven native boys from Madagascar. The following is a translation of the letter in Malagasy sent to the choirboys :
To the singing boys at Weston-Runcorn, Cheshire Dear Friends, - Our Missionary has told us, the singing boys of St. James Church, that you are collecting money to build a church from all the singing boys, and so we send you one dollar. Do not despise our gift because it is small, for we are not a rich people, but only Malagasy boys. Perhaps the dollar will buy one stone if they are not too dear with you. We send our compliments to all you singing boys. May you live under God's protection saith your friends the singing boys of St. James Church, Tamatave.
Pegging out for the church started on 8th February, 1897 and the first sod was cut on 20th February, 1897. On 15th May the Dean of Chester laid the Foundation stone and the Church was consecrated on 11th May, 1898 . The final cost of building was more than £5,000. The Tower was added in 1900 at a cost of approx. £700. The lower portion, which forms the baptistry was finished before the Church was consecrated but the upper portion was left until sufficient funds were available.