All Saints, Runcorn
Church Street, Runcorn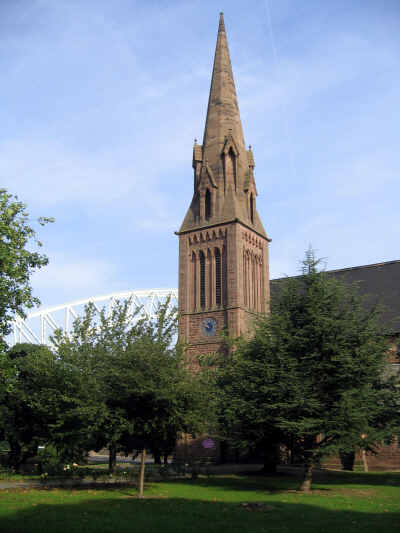 The Norman church which replaced the Saxon chapel built by Aethelfleda in 915 AD was declared unsafe in 1846 and in September that year the last sermon was preached in there.
The foundation stone of the new building was laid by Sir Richard Brooke at Easter, 1847 and on 11th January, 1849 the building was dedicated to All Saints and opened by the Bishop of Chester. Some parts of the old building were incorporated into the new :-
1) 4 of the bells were used in the casting the new ring of 8.
2) Fragments of the rood screens were salvaged and used in the new choir stalls.
3) The altar rails were re-used although these were replaced in 1900 by alabaster ones in memory of Canon Barclay.
4) The former tenor bell was reused in Holy Trinity church, Runcorn.
5) The former pulpit was bought by Thomas Hazlehurst and used in Farnworth Methodist Chapel, Widnes.
During the time between the last service in the old church and the opening of the new one Services were held in the School. The cost of the new Church was £8,052 and was met by public subscriptions and by a Parish rate levied on the whole of Runcorn Parish which at that time also included townships such as Daresbury who objected vigorously to paying a rate for the church in Runcorn. This was the last occasion on which a Parish rate was levied and took place on 15th March, 1855 to liquidate a loan of £3,000 advanced on the security of the Parish rate.
The church was built to the design of Anthony Salvin in 13th century Early English style and Runcorn sandstone was used in its construction. There is a square tower surmounted by an elegant octagonal spire to a total height of 161 feet. The original roof was of Westmorland slate and a clock was installed in 1851 by John Handley of Runcorn. The Brooke family gave many items - the stained glass window in the chancel being the gift of Sir Richard Brooke. Previous gifts of silver from the Brookes continued to be used in the new church, in particular the silver chalice and paten given by Lady Mary Brooke in 1670.
There are memorials to many notable local people and although the gravestones were laid flat in 1973 when the graveyard was laid out as a garden area these are still distinguishable. The fabric of the building was cleaned in 1973 and revealed once more the lovely local sandstone.