Weston Point circa 1950s.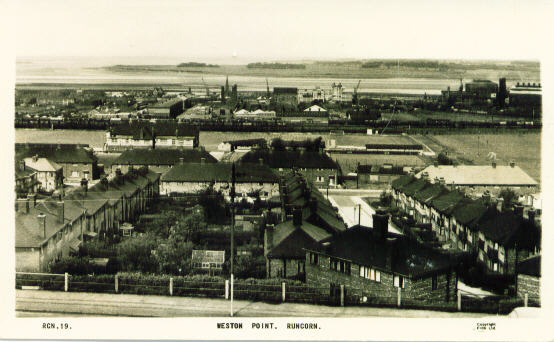 View taken from Weston Road towards the ICI* Recreation Club (centre left) and its playing fields, bowling greens and soccer pitches. A duel-carriageway road and a line of trees now run between the Recreation Club and the houses which run from left to right across the centre of the photo and covers the fields on the right. These houses are in "Russell Road" and were built after 1945. The avenues of houses which run down to Russell Road are Hazel Avenue (left) and Cameron Avenue (right). These houses were built after 1930. The old Recreation Club is almost hidden behind this road and the trees.The older parts of Weston Point lie in the top-left of this picture to the left of the dock crane jibs which can be seen in the top-centre.
.Beyond the playing fields are railway sidings then factories, workshops and docks. The light coloured factory in the centre distance was then part of the ICI Salt Division ( now part of the Salt Union). The black buildings on the right are part of the salt manufacturing and part of the old Percival Lane Power Station (now gone).
Across the River Mersey can be seen Hale Point, which in the 1950's still had a working lighthouse on the end of it. The Mersey was then still navigable for a further few miles up to Widnes. All this river traffic ceased a few years later, but the lighthouse tower still stands as part of a private house. The steeple of Christ Church appears to reach out over the River and touch the shore at Hale!. This church has now been deconsecrated and was once known as the "island church", since it stands completely surrounded by canals and is therefore on a man-made uninhabited island! It is now surrounded by the storage facilities of a large road transport firm. Now, from 2015, the present scene is dominated by a huge waste incinerator plant,erected in spite of local opposition.
*ICI Imperial Chemical Industries. Once one of Britain's great companies. Now no more, but the large factories which it had at Weston Point are still operating under new owners. The largest of these, Castner-Kellner, manufacturing Chlorine and its derivatives, lies off this photo to the left. The Recreation Club itself was built for the employees leasure time. It had a bar, billiard room, sitting rooms, ballroom and stage, changing rooms, bowling greens, tennis courts, playing fields, cricket, hockey and soccer pitches, and a rifle range. After the demise of ICI it became a privately owned the club "Pavilions", but in Nov. 2017 it closed its doors for the last time. it is planned to be demolished and its site and its playing field to become a housing estate.