An old print of the Runcorn-Widnes Ferry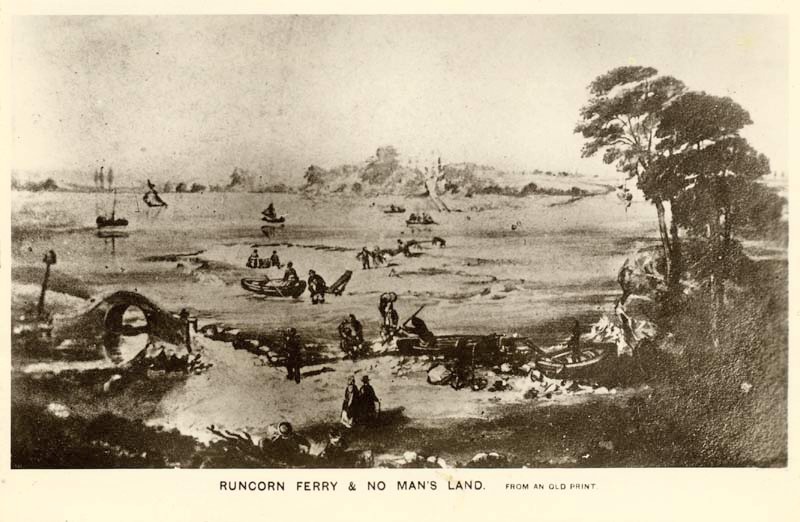 This print of the River Mersey shore at Runcorn could have been done in the early 19th.C. It appears to show two pieces of water in the River Mersey, with a sandbank in between them. There are boats in each piece of water, and people walking on the sandbank going from one boat to the other one. Obviously at low tide, one person appears to be being given a piggy-back across the shallow water approaching the Runcorn shore. The little bridge crosses what was called "the Duke's gut", a channel cut through "Castle rock" which funnelled the ebb tide across the front of the last lock leading from the Bridgewater canal into the Mersey, in order to stop it silting up.
From all the old descriptions (pre-1850), the tree-covered promentory on the right-hand side of this photo is "Castle rock", by tradition the site of the fortification built at Runcorn by Princess Aethelflaed of Mercia as a barrier to Viking invasion of the Kingdom. The Railway bridge now stands on what is left of it. The approximate position of landfall on the Runcorn side, based on this print, would now be at the junction of Collier Street and Brindley Street,(if the Manchester Ship Canal wasn't in the way!).
On the far side of the River Mersey are the leafy lanes of Widnes, the chemical factories still absent. The building visible (just) across the river is probably "Snig Pie House" where anyone wanting to use the ferry could find shelter and refreshment before boarding the small boats. The building is still prominent on the Widnes shore today.