Railway Station about 1900, Runcorn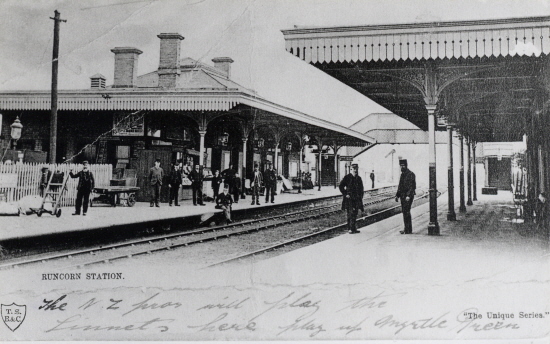 The old Runcorn railway station about 1900 . This station was replaced by a modern one in the 1960's. Runcorn is on the main London-Liverpool line and this view is in the London direction. The platforms were not very long, and when getting on the train at Liverpool the ticket collector, as he checked the tickets would usually say something like "First four carriages for Runcorn". If you didn't heed this then the carriage you were in would probably not even be alongside the platform when the train stopped!
The writing on the card front says: "The NZ pros will play the linnets here. Play up ?? Green."
I think this card refers to the New Zealand "All Blacks" . At this time Runcorn were playing rugby and not football. Runcorn teams have always been known as "The Linnets" by their fans.
The reverse side of this postcard had not been used, and is not displayed