"View over Runcorn from Weston Road"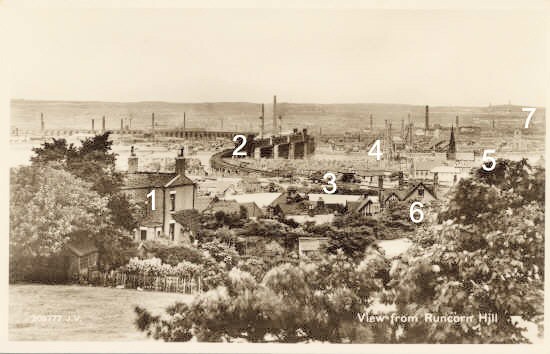 (Place your mouse on/off the picture to see the before/now scenes)
This view is taken from Weston Road, not far from "The Slide".
1. The large house on the left is Crofton lodge (now demolished).
2. The railway bridge is quite prominent with its viaduct stretching away into the direction of Liverpool, as also are the chimneys of Widnes on the opposite side of the River Mersey.
3. The old Runcorn railway station lies almost in the centre of the picture
4. is the transporter bridge.
5. Runcorn "All Saints" Parish Church
6. the Cottage Hospital
7. Last but not least, St.Mary's Church in West bank, Widnes, still a prominent landmark today. Widnes is here a "sea of tall chimneys" of the chemical industry. Now they have all disappeared.

The terraced housing between 2,3,and 4 have now almost all disappeared under the new roads of Runcorn, also the empty fields between the hospital and the railway are no more.
The reverse side of this postcard had not been used, and is not displayed