"The Heath, Runcorn, in 1905"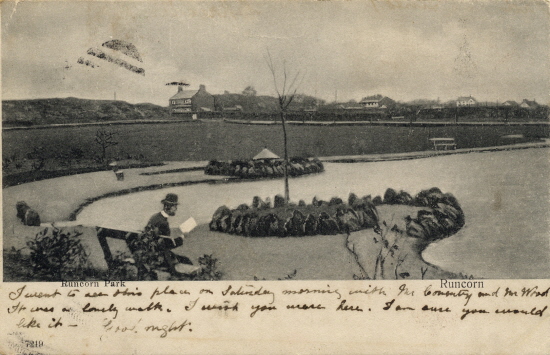 (This is a black and white version of this postcard.)
Today, this is the Heath Park Lake. It is a leasure ammenity used for model boats. It had started out in the 19th.C. as a storage lake for the Runcorn water supply. The water came out of a nearby well, which is now filled in. All the trees are now fully grown and the opposite side of the road has houses running up it.
The message reads:-


Dear Tina,
I have just got your card. Did you like the letter, not so short was it. Could you get me one of the 1d. hair nets.(One old penny pre-decimalisation) It will be best to come home in. Tom came home today (Monday). He does not look well. He has been running about with that bike too much. I am going to Gillian's tomorrow and to a concert in the evening. Aunty Lizzie has just called, she looks well. I am going there on Thursday - I think. Will let you know tomorrow later on which day I shall come. Then we can have CAKE.)