Docks Postcard 9, Weston Point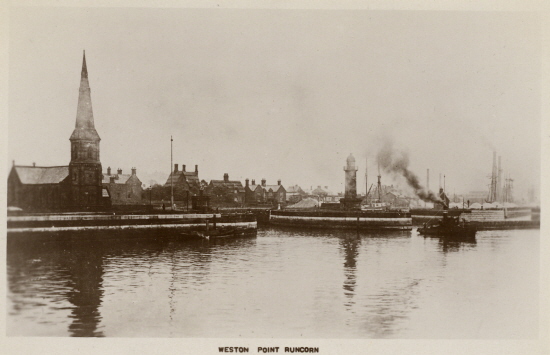 This view is of the Weston Point docks as they were until the 1940's. The lock entrances gave access from the Weaver Navigation canal to the Manchester Ship Canal, from which this photo was taken. The little "church on the island", as it is locally known, was said to be the "only church in the world on an uninhabited island ", being entirely surrounded by dock basins and canals. Alas, today it is no longer a church and was de-consecrated in the 1980's. It was built by the Weaver Navigation Co. in 1840 for the use of the narrow-boat families when they were "moored up" here. The houses seen here have all gone and the little church became more and more remote from the people.
The small lighthouse disappeared a long time ago. Its purpose of helping mariners on the upper Mersey disappeared when the Ship Canal cut it off from the river. The lighthouse tower of its "twin" at Hale point on the opposite side of the Mersey, still stands. Some of the dock basins have also been filled in now. The tall chimneys in the background right are those of the Castner-Kellner Alkali Co. works, which became part of ICI (Imperial Chemical Industries) and now is part of INEOS group.
The Weaver Navigation Canal ran from Weston Point to Northwich and Winsford and was used to transport salt from these places. It was also used to transport flint and china clay to the potteries (Stoke on Trent).
The reverse side of this postcard had not been used, and is not displayed